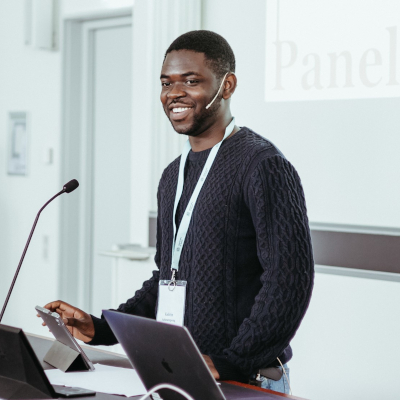 Kelvin Acheampong
Ghana
Alumnus of the first cohort (2020 - 2022)
​
I can never forget the thrill with which I jumped and shouted upon reading the mail that I had been shortlisted for the EIMAS interview. I told everyone that I was soon going to study in three universities. Then a question began to haunt me: what if I didn't make it after the interview? What would I tell all these people?
But I did make it. My imagination went wild. I looked forward to two years of growth, travel, friendships. But frankly, despite my lofty expectations, it turned out I had underestimated the profound impact the EIMAS would have on my world. For example, I came from a purely literature background and yet through EIMAS, I got the opportunity to learn and gain sufficient mastery in eclectic subjects. To the credit of EIMAS, I was to present my research in conferences at the EIMAS consortium universities, University of Jos in Nigeria, University of Basel in Switzerland, Northwestern University in the US (and in June, Cheikh Anta Diop University in Senegal); as well as intern with the Africa Today journal at Indiana University in Bloomington. Also, thanks to the EIMAS' strong emphasis on writing, my research has been/will be published in peer-reviewed journals such as Africana Studia, Research in African Literatures and The Thinker: A Pan-African Quarterly for Thought Leaders. What's more, I got an opportunity to work with the Institute for African Women in Law as a research fellow.
I am so grateful for the training I received, the friends and professors I met who consistently helped expand the frontiers of my knowledge. I have no regrets for choosing EIMAS. Significantly, studying in an interdisciplinary master's program enriched — rather than impinged on — my appreciation of literature.
But here's the best part: as I write this, I have received seven PhD admission offers. While two of the schools are yet to make a decision on funding, the others are fully funded. Surely, this wouldn't have been possible without EIMAS.
Vive EIMAS!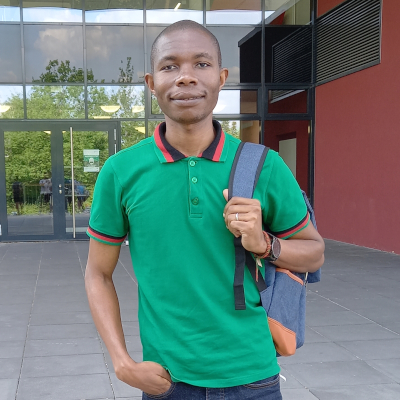 Lawrence Katunga
Malawi
Alumnus of the first cohort (2020 - 2022)
​
My enrollment in the European Interdisciplinary Master African Studies (EIMAS) was an opportunity for my interest to dive deeper into Africa's development. The EIMAS classmates, professors and administrative staff made the program worth it. Sharing academic experiences with classmates of different nationalities, academic and professional backgrounds enriched the learning experience in the EIMAS program, and created memories that will last a lifetime. The EIMAS program takes one through Africa in different research lenses; from Africa's political, socio-economic, geographical, historical and cultural perspectives as knitted in its interdisciplinary courses. I cannot overstate the importance of the EIMAS program to me especially in terms of broadening my research, project management and intercultural experience and skills. It is one of the most memorable academic experiences to have that opens up limitless opportunities in which to apply the acquired knowledge and skills learnt in making an impact to the society. It was invaluable to me and I am confident that my studies in the EIMAS will greatly add great value in my doctoral studies and professional career.
​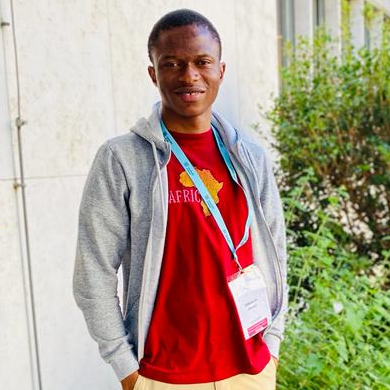 Odunola Oladeji
Nigeria
Alumnus of the first cohort (2020 - 2022)
​
EIMAS was my corridor to the world, my nascent foray into interdisciplinary research, and my leverage for global opportunities and platforms.
My expanded perspective of Africa's diversity and richness is based, not only on knowledge but also on experience. Overall, the experience was a game-changer. It was, for me, a period of many "firsts". For the first time, I will be sharing a classroom with diverse students from different corners of the world. During this time, I connected with, interacted with, and met people from various continents, particularly from nations I would have only known from a map. Even though some of these were outside the scope of the programme, there is no denying the fact that EIMAS made this happen. Without gainsay, my fond memories of exchanges and networks will last a lifetime. When I look within my circle of friends—those I could talk to for hours on end, gist with, and brainstorm ideas with— EIMAS endeared me to some of them. I wouldn't omit the fact that some of the training I received was instructional and crucial to my current pursuit. Indeed, I have no regret making this decision some years ago.
​