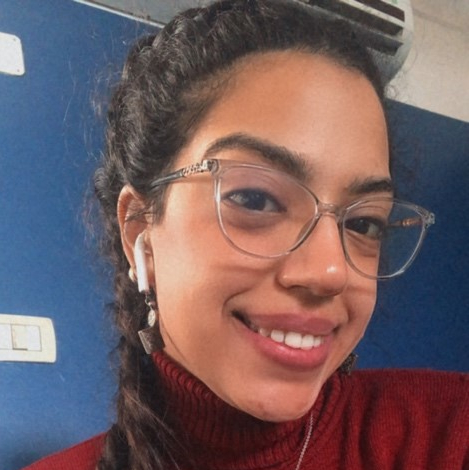 Salamo Aleikom! My name is Yosr, I was born and raised in Alexandria, Egypt and I am a proud member of the EIMAS 3rd cohort!
I hold a Bachelor's degree in Political Science from Alexandria University, attained in 2019 (6 months before the COVID-19 breakout). The reason behind my choice to specialize in Political Science started in my childhood. Political debates were a dominant feature of our family gatherings; therefore, I grew up with terminologies such as "this is political capitalism!" and "what is this neo-liberal economy?!" already embedded in my vocabulary. My interest grew deeper with the staggering Egyptian Revolution in 2011 that I proudly took part in.
After graduation, I proactively sought to engage in different intercultural platforms to develop my knowledge and interpersonal skills. So I took part in the World Youth Forum (WYF19) in Sharm El Sheikh, Erasmus+ 'Radicalous' Youth Exchange in Marrakesh, interned in the Center for Intercultural Dialogue and Translation (CAWU), and joined the Egyptian delegation to COP26 in Glasgow as 'party overflow'. These experiences paved the way for the start of my journey in peace and security.
Simultaneously, I kickstarted my career as the Program Assistant on Climate, Security and Development at the Cairo International Center for Conflict Resolution, Peacekeeping and Peacebuilding (CCCPA), where I assisted in the development of knowledge products, including concept notes, chair's summaries and training sessions. Most notably, I was closely involved in the development of a training manual on "Climate Responsive Programming for Sustaining Peace in Africa", where I led the development of the manual's main case study to enhance understanding of conflict drivers, dynamics and risks within the African context. I also led a session on "Regional Implications of Climate-Security Risks in Africa" as part of the 2022 Stockholm Forum for Peace and Development, in Stockholm, Sweden. Additionally, I was one of the thematic leads on Climate Adaptation and Peacebuilding Nexus during the third edition of the Aswan Forum for Sustainable Peace and Development, including a session on Empowering Youth Voices for a Peaceful and Climate-Resilient Future. The recommendations of this High-Level convening served as a stepping stone towards COY17 and COP27 held in Sharm El-Sheikh.
It is worth mentioning that upon my hiring, I had limited knowledge on climate change and its interlinkage with peacebuilding and sustaining peace. However, in a short period of time, I developed a passion towards climate-security and environmental peacebuilding topics in Africa, especially, issues related to transboundary natural-resource management. Accordingly, I was sponsored by the Arab Water Council to attend the 9th World Water Forum in Dakar, where I got to enhance my understanding on water-related issues in Africa and the role youth play as agents of resilience.
In that sense, the European Interdisciplinary Masters African Studies (EIMAS) program offered by Universidade do Porto, University of Bayreuth and Université Bordeaux Montaigne was the perfect destination for my post-graduate studies in order to equip myself with the required tools and academic knowledge to advance as a practitioner in the peace and security field.
Contact: