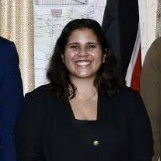 Hello there! My name is Nouran Mahran. Nouran (noo-raan) means a pair of lights in Arabic and a gift in Persian. I was born and raised in Cairo, Egypt. So, I am a Cairene through and through! I identify as a Pan-Africanist at heart, who is highly interested in post-colonial/decolonized approaches to African studies.
I hold a B.Sc in Political Science with a minor in Economics from Cairo University (2018). During my bachelor's studies, I undertook a semester abroad in political and social sciences at Freie Universitaet Berlin, after being awarded an ERASMUS+ scholarship. I chose to do this exchange as I am very interested in multicultural and dynamic learning environments.
My interest in pursuing African studies stemmed mainly from studying African political systems during my senior year. After graduating, this interest continued to guide my career choices. I was keen on seeking opportunities that would deepen my knowledge of peace, security, and developmental issues within fragile and conflict-affected settings in Africa.
I started my career as a Life skills facilitator for unaccompanied and separated African minors, mostly coming from the East Africa region. This allowed me to apply the theoretical knowledge acquired during my studies in these settings. However, I realized that I also needed to study the culture of these communities in order to effectively interact with the target population.
Afterward, I started my job at the Cairo International Center for Conflict Resolution, Peacekeeping, and Peacebuilding (CCCPA) as a program associate in the department of peacemaking and peacebuilding. One of my most prominent accomplishments is assisting in substantially preparing the first, second, and third editions of the Aswan Forum for Sustainable Peace and Development. This included the AU High-Level Workshop on Silencing the Guns and the Aswan Preparatory Workshops -one of which served as the first African consultation for the 2020 Review of the UN Peacebuilding Architecture and the other one fed into the UN General Assembly's High-level Debate on Financing for Peacebuilding. I also led a session on the "Africa-European Union partnership" as part of the 2021 Stockholm Forum on Peace and Development. Moreover, I recently assisted in the substantial preparation of a high-level retreat on "Post-2021 Arrangements in Somalia"; which focused on the transition from AMISOM to ATMIS; taking into consideration the current peace and security situation and needs in Somalia. Finally, I co-led a field assessment mission to South Sudan that focused on the implementation of the humanitarian-development-peace nexus by national, regional, and international entities in the country; zooming in on the ongoing peacebuilding process.
My interest in this master's program is rooted in combining an interdisciplinary theoretical background in African studies with on-ground and practical experiences through the EIMAS Winter School as well as the fieldwork/internship scheme that is part of the thesis.
Pursuing this program is a stepping stone towards advancing my career in research and fieldwork in peacemaking and peacebuilding, as it would qualify me for a field position working on these issues in a particular conflict or post-conflict setting in Africa. I intend to pursue more field-based position in peacebuilding after the end of this program, towards the dream of advancing long-term sustained and holistic peacebuilding engagement in conflict and post-conflict settings, particularly in the West Africa region as well as the Eastern one (specific focus on the contexts of Mali, Sudan, and South Sudan).