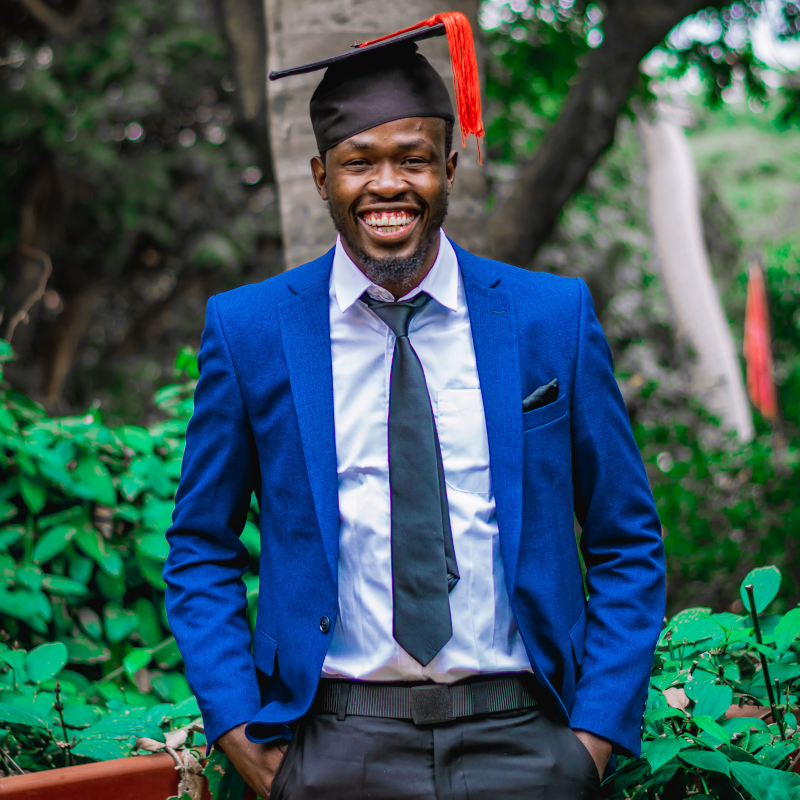 Finney is a patriotic Kenyan, a proud African, and a global citizen. He graduated from the Technical University of Kenya (TUK), with a First Class Honours in International Relations and Diplomacy (BA). He was the most outstanding in his class, constantly exploring and venturing into unchartered waters in his academic pursuit. He is a natural leader, contributing to, among others, the Ushirikiano Digital Social Media Campaign, which was commissioned by the Ministry of East Africa Community (EAC), Kenya – in a quest to mobilize the youth in universities across Kenya to harness the social media space in driving awareness on the significance of regional integration within East Africa and Africa. In this competition that featured more than 20 universities in Kenya, Finney, with his astute leadership skills, coordinated the Technical University team, driving them to win the competition, having reached out to more people via all social media platforms. As a result, he holds numerous awards from this fete, one being three commendation letters from the then Principal Secretary to the Ministry of EAC for his leadership and impact through the challenge.

Finney's experience is not pegged only to academic and leadership roles as afore-mentioned. Finney has also contributed to national, regional, and global policy spaces through the work experience he has garnered. In 2018, working with the Africa Center for Technology Studies (ACTS), Finney was part of the research team conducting the Strengthening Non-state Climate Action in the Global South (ClimateSouth) project. ClimateSouth was a 3-year project that aimed to develop a rigorous social scientific evidence base to support effective climate action by cities, regional governments – counties in the Kenyan context, and businesses in developing countries. He carried out extensive data collection through surveys, interviews, and fieldwork activities for the project that aimed to develop a climate action database for the 47 county governments, 50 Nairobi Securities Exchange-listed companies, and 70 Small and Medium Enterprises in Kenya. As a result, Mr. Israel contributed to one of the key project outputs, a Report on Cooperative climate action: global performance and geographic scope. Findings from the report were shared at the United Nations Secretary General's Climate Action Summit in September 2018, in New York.
Additionally, Finney worked with the GiZ-Kenya in a study that sought to support subnational governments in Kenya develop a Sustainable Energy Access and Climate Action Plan (SEACAP). This draft policy paper prioritized vulnerable households in Nakuru County, to support them in accessing sustainable energy for climate action.
His impact on the continent (Africa), was, however, revamped by the outstanding work experiences he has had and currently has with the Africa Research and Impact Network (ARIN). He has supported the Multi-hazard Disaster preparedness study that seeks to strengthen the response capacity of African governments to disasters through proactive rather than reactive approaches. This has especially involved working with the Urban Informality in Kenya through Risk Vulnerability Assessments to understand how best the capacity of these marginalized communities can be strengthened in dealing with disasters. Similarly, he has been actively involved in the NDC Finance in Africa Study, which has already trained and engaged over 100 researchers and practitioners in Africa on how best to leverage finance for Africa's Nationally Determined Contributions (NDCs). In addition to this, Finney supports the Situational Analysis for Cooperative Initiatives in Africa. He has an outstanding role in this study and it will be presented at COP 27, this year, in Egypt. This study will also strengthen the role Finney has had in the establishment of the Africa Non-state Action Platform (ANSCA). ANSCA is the deal pathway for fostering non-state climate action and closing the visibility gap in Kenya and Africa at large. The primary objective of the ANSCA platform is to close the "visibility gap" of non- and sub-state actors in Africa and to subsequently catalyze action to realize the Paris Agreement targets. This is a platform that will be revived in COP 27, due to the report that should come out of the Situational Analysis Study.
Finney has supported in studies on Just Transition in Africa, and also supports, through background studies and literature review, in the forthcoming ARIN Book 'Africa in the Post-COVID-19 World: Lessons for Research and Policy'. This will be a masterpiece book to guide and inform Africa government priorities in the post-COVID world.
Finney is excited about the scholarship opportunity provided by the EIMAS Consortium – European Union. This opportunity provides him with an excellent opportunity to strengthen the academic and practical skills so far acquired. Offered by the top universities in African Studies, i.e. Bayreuth, Porto, and Bordeaux, this opportunity reinforces the commitment of not only the European Union but also that of exemplary research universities and institutions in confronting the complex research and developmental challenges bedevilling Africa. Throughout this program, Finney commits to working hard, developing networks, and leveraging the expertise of all the reputable EIMAS professors, lecturers, and the ever-supportive coordinator Mirjam Strasser, in realizing his full potential and having an impact on the continent.
Ahsante sana Erasmus Mundus! Ahsante sana European Union!
Contact: finneyisrael.awuor@gmail.com