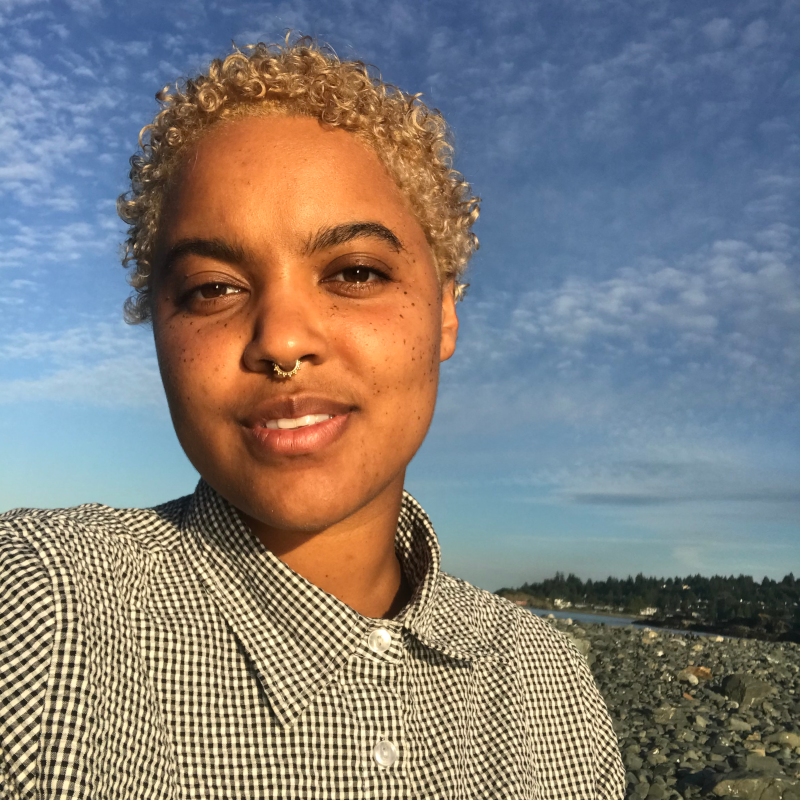 Hello! My name is Esi and I use they/them pronouns.
Born to a Ghanian father and a Canadian mother, I was raised in a small town on the west coast of Canada (Snuneymuxw territory).
I later moved to Montreal (also known as Tio'tia:ke, the territory of the Kanien'kehá:ka Nation) to study at Concordia University. There, I completed a Bachelor of Fine Arts degree with a Specialization in Theatre and Development and a Major in Communications Studies.
As a part time student, I worked while in university. For one year, I had the opportunity to curate student art exhibits as a coordinator at our undergraduate exhibition space, the VAV Gallery. An important moment came for me when I led the organization of our Hyper Real: Black History Month Exhibition and Event Series in November 2018, which brought together nine African and Afro-descendent artists working in various media, alongside relevant workshops, screenings and performances. From this experience and the community I encountered through it, I became heavily involved in organizing alternative artist collectives invested in social justice movements. The theatre collective which I co-founded, Sort Of Productions, centers Black, racialized, queer and trans artists, building our practices around our lived experiences, values, desires and needs. Through this work, I saw firsthand how theatre-making can be part of political resistance and I became interested in how artists marginalized by their societies engage with and express their own and one another's struggles for freedom.
Within EIMAS, I hope to keep delving into the relationship between arts and social justice movements, particularly those by and for African and Afro-descendant people.
Contact: callender.s.e@gmail.com