Prof. Dr. Judite Medina do Nascimento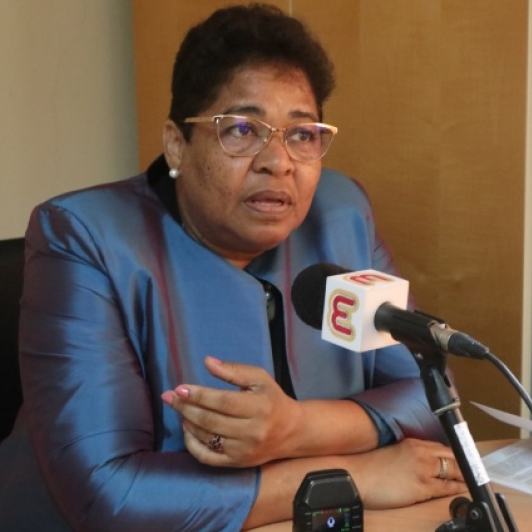 Judite da Encarnação Medina do Nascimento, who has a PhD in Geography - Spatial Planning and Urbanism, is Rector of the University of Cape Verde since 2014.
Before starting her career in her country of origin, she collected a lot of international academic experience: She completed her doctorate at the University of Rouen (France), did her Master's in Geography - Regional and Local Planning at the University of Lisbon (Portugal) and obtained her undergraduate degree in Geography from the Kharkov State University (Ukraine).
Since the foundation of the University of Cape Verde, Judite has been working as professor and has dedicated her research and teaching activities to the scientific fields of spatial planning, urban planning and administration, urban governance, urban geography and urban growth and development.
She was a Member and later Chairman of the Board of Directors of the Department of Science and Technology at the University of Cape Verde and already worked as professor of Geography at the former Instituto Superior de Educação de Cabo Verde from its foundation in 1996 to its integration with the University in 2006.
Judite is also a member of the Board of the Geographic History Commission of the International Geographic Union and headed the Research Center for Local Development and Spatial Planning at the University of Cape Verde.
Furthermore, she holds the following positions:
President of the Board of Directors of the Virtual African University (UVA)
Interim President of the International Center for Research and Climate Applications for CPLP and Africa (CIICLA) until September 2019
Vice-President of the Portuguese Association for Distance Education
Vice-President of the Association of Portuguese Language Universities (AULP)
Member of the Academic Union of Oxford.